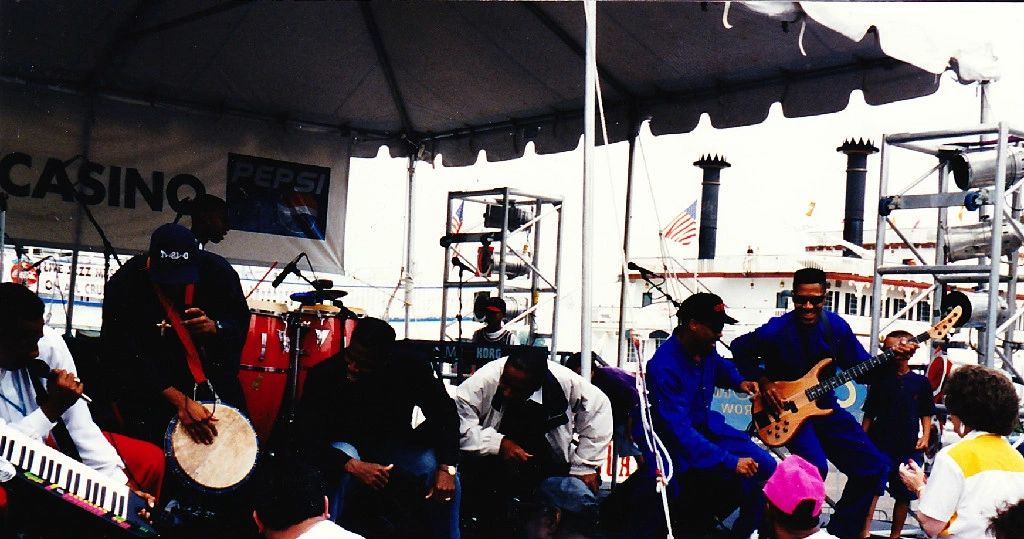 The Batiste Family™
The Batiste Family is what they call us. I named the band Batiste Brothers Band but most newspaper articles call us Batiste Family, Batiste Clan or other Batiste family connotations because we always have more than brothers on stage. It started when we'd bring family members up to the stage to sit-in with the brothers. First, there was 5 and 6 year old Damon and Russ. Next, Jamal (David's children), Travis (My son), Lil Mike, Jonathan (Michael's children), Peter Rabbit, Quanna, (Peter's children), Peter's grandchildren would join the stage at the Children's Museum and Kid's Tent at Jazz Fest. Also, the family is growing and developing in the music world.
One year, we performed with 23 Batiste on stage. That was when we were called "Batiste Clan" by the newspaper. Therefore, when we perform we use both names-"Batiste Brothers Band" and "The Batiste Family". Finally, the public recognizes us and call us the names interchangeably. We have been recognized by the Mayor of New Orleans, Senator Mary Landrieu and the City council as the Batiste Family. There are others who would use the name for their personal gain and therefore, misleading the public. We have called ourselves both names equally. Just as the "Jacksons" are the musical family we are too. We are the largest musical family in the South.

ESTELLA CURTIS BATISTE passed from this life on September 6, 2007 at Kindred Hospital at the age of 92. Estella was born June 9, 1915, in Clayton Georgia to the late Ella and Garnett Curtis. She lived her childhood life in Jonesborough, Georgia until she moved to New York where she met and married John J. Batiste, Sr. The couple resided in New Orleans, Louisiana before moving to Metairie, Louisiana. She was preceded in death by, eight sisters, three brothers, and one grandson, Tracey Lee Batiste. She leaves to mourn 7 sons, 23 grandchildren, 20 great-grand children, and a host of nieces, nephews, cousins and friends.
"My mother was inspirational in life and motivational in spirit. In life and death, she held my hand every step of the way. Conversely, she gave me the tools I needed to navigate my way through difficult situations. She was a leader, spokesperson, champion, mentor, winner, and woman to my Dad. She was the consummate grandmother, great grandmother and parent. Were it not for mother, I would not be a teacher, composer, producer, band director, professional musician and contributing citizen. I looked up to her-then and now in heaven and know she is in her rightful place-an angel helping music heal life. She was a friend and a servant to the arts. Therefore, I dedicate my life's work to my mother. People should know what a wonderful parent, mother, friend, family member and daughter to her parents, my mother was.
Moreover, she was a pillar to the community, I want people to know how Mom had clothes for 7 boys and my Dad washed, ironed, pressed and ready to go for school and church. Among the seven boys are: college graduates, educators, bankers, technicians, engineers, entertainers, composers, the Batiste Brothers Band® and more.
Additionally, she did the same for her grandchildren and great grandchildren. Some of which are: world travelers, college graduates with degrees in pharmacy, liberal arts, and education. With a third grade education, Mom was a housemaid and later she worked at the Holiday Inn and Sears-were she retired. Finally, my Dad is 98 years old and in good spirits. My Dad was a contractor and owned a grocery and hardware store-which gave us a good business sense. Dad bought my first musical instrument and Mom asked me to lead the Batiste family in the music world. You should know that when it came down to music in the family, Mom ran the show."
-Paul Batiste-